I like sharing what I'm reading here on my blog. I've shared a few book lists in the past that range from books for boys, girls, Proper Romance, and even children's books. Today I wanted to share some clean medieval era romance books. These books have a love story but are clean and often have an uplifting or spiritual undertone. I feel comfortable recommending any of these books to you. I've included links to these books below.
Clean Medieval Romance Book List:
These are a few of my recent reads. I think you'll like many of them. Click the book images to learn more. My reviews of each book is listed further below.
Affiliate links have been used where possible.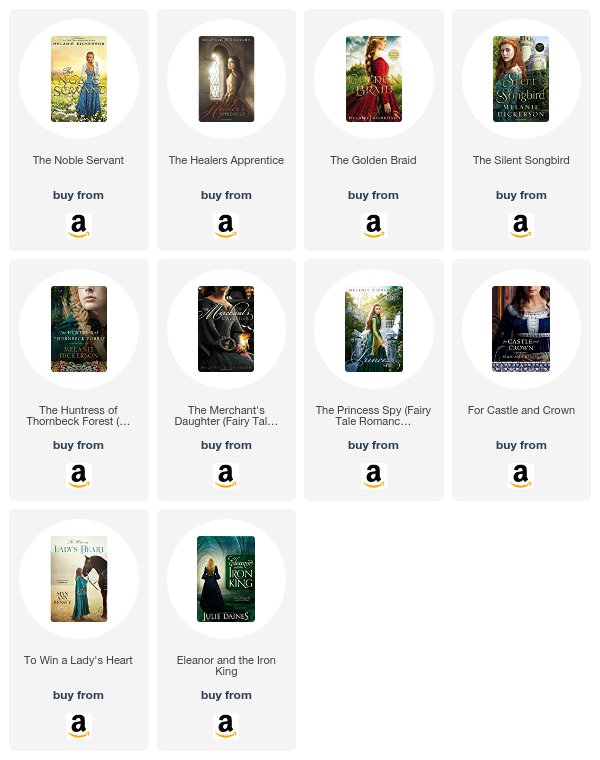 To Win a Lady's Heart
by Sian Ann Bessey: This sweet tale has undercurrents similar to Robin Hood as Lady Joanna searches for love after her father emotionally abandons her.
For Castle and Crown
by Sian Ann Bessey: Lady Philippa must do her best to save Hawksford Castle despite being severely injured in a previous attack, all while dealing with her newfound feelings for Duke Edmund, an old childhood friend.
Eleanor and the Iron King by Julie Daines.
Eleanor de Lacy is betrothed to a knight of another land. Trust builds between the two characters as they overcome the threat of war, the accusation of witchcraft, and more.
Books by Melanie Dickerson:
Each book focuses on a character and moves through time. Each has a strong faith and relationship with God as characters work through their own difficulties and find love and family.
Jen Gallacher Book Lists:
Here are some additional book lists you might want to check out. Simply click the title of the book list to learn more:
*
Regency and Proper Romance Book List (List #1)
*
Teen and Tween Boy Book List
*
Children's Book List
*
Teen and Tween Girl Book List
*
Middle Reader Book List
*
Fairy Tale Retellings Book List