Did you know that
Jillibean Soup
offers a gorgeous offering DIY items in their "
Mix the Media
" product line? You can use their wooden frames, windows, canvas frames, embroidery hoops, metal shapes, and more to create gorgeous handmade signs, home decor projects, and gifts for friends and neighbors. This is one of the things I'm most excited to play with as part of my marketing job with Jillibean Soup. I LOVE these kinds of projects, and with their foundational pieces, the ideas are endless. Keep reading for how you can create this wooden frame with felt flowers. Instructions and the supply list are included below.
How to Add Felt Flowers to a Wooden Frame:
Step 1:
Cut a sheet from a vintage dictionary. Cut to fit inside the 6" x 6" wooden frame. Attach with glue dots or double-sided sticky tape.
Step 2:
Use a digital or manual die cut machine to cut 6 or more scalloped circles from dark teal cardstock.
Step 3:
Stack each scallop circle on top of each other. You're creating a sturdy, almost chipboard sturdy, scallop circle. Double-stack foam adhesive on the back of the circle and mount in the center of the frame.
Step 4:
Use a digital die cut machine to cut leaves in different sizes from a leaf green cardstock. Mount on the diagonal on the scallop circle (make sure the text in the dictionary is correctly oriented).
Step 5:
Mount the Jillibean Soup felt flowers in the center of the scallop circle. Choose your favorite three colors and styles.
Step 6:
Wrap twine around the bottom of the sign six or seven times and tie into a bow. Add a few yellow enamel dots to each side of the frame.
Step 7:
Use a digital die cut machine to cut another leaf style shape from both yellow cardstock and clear vellum. Add these to each side of the frame. Add additional enamel dots to the bottom corner of the frame.
Here's another look at the project. Don't forget to pin your favorite images for later!
Shop the Supplies:
(Click the product images to shop. Affiliate links have been used were possible. I receive a small percentage of each sale at no additional cost to you.)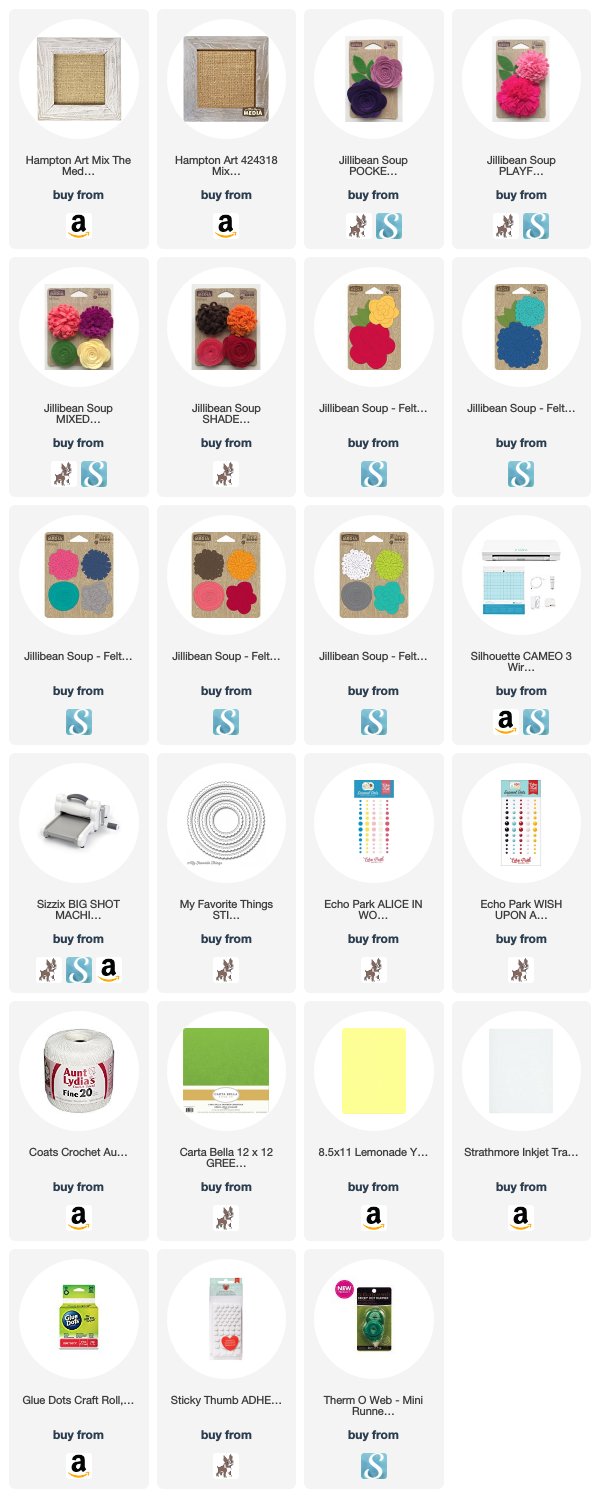 Pin This Image:
Pin this image to your favorite DIY crafting Pinterest board. It will help you remember some of the steps from this tutorial.