My kids love to eat home lunch, but sometimes after a while they get tired of my boring, brown lunch bags. So for this back-to-school craft, I wanted to show you how you can dress up lunch bags to create something beautiful, sophisticated, and uplifting. Here's a look at the lunch bags we are going to create today:
Stamped and Stenciled Lunch Bag:
1. For this project, we'll be using white lunch bags. You can find them on Amazon
HERE
. We'll also be using stencils, gold and black stamping inks, a few stamps, and an acrylic block to stamp on each bag. You can find all the products listed in the products section below.
2. Place a stencil on the bottom of the bag. Using an ink dauber, ink the dauber on the gold stamping ink pad. Repeatedly daub the ink through the stencil onto the lunch bag. For the first design I only inked a diagonal line of pattern through the stencil.
You can also create your own pattern like stripes by using Washi Tape to tape off part of the bag. Apply ink with the dauber to the open design and then remove the tape to reveal the striped pattern.
3. For the sentiment use either alphabet stamps or sentiment stamps to stamp a word, message, or the child's name on the front of the bag. Try adding inspirational quotes for something that's sure to make your child smile.
4. When the lunch sack is filled, you can add a tassel to the top of the bag with a gold clothespin.
Lunch Bags for Teens
Here is a closer look at each bag. Try mixing up colors to make it more masculine, or try a different stencil style to create a new look. You could also use brown lunch bags for an entirely new design. There's no reason a lunch bag needs to be boring. Make yours a bit more magical with these quick and easy steps.
(Randomly stenciled confetti dot design.)
(Diagonal stenciled design.)
(Taped off stripe design.)
Pin this image for Inspiration Later: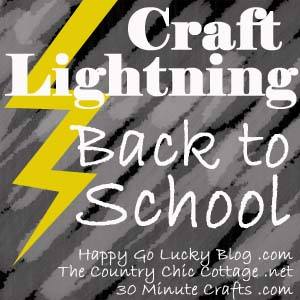 Shop the Supplies:
(Click the product images to shop the supplies. Affiliate links have been used where possible.)