Make it easy on your friends, family, and significant other this Christmas! Send them the links from this
Scrapbooking and Craft Gift Guide
to help them know just what you'd like this holiday season. These are some of my favorite "Must Have/Really Really Want" items I would suggest for any scrapbooker or crafter. Are some of these items on your list this year?
Scrapbooking and Craft Gift Guide:
(Click images to learn more about each product. Affiliate links have been used where possible. Read descriptions below of why I recommend these products.)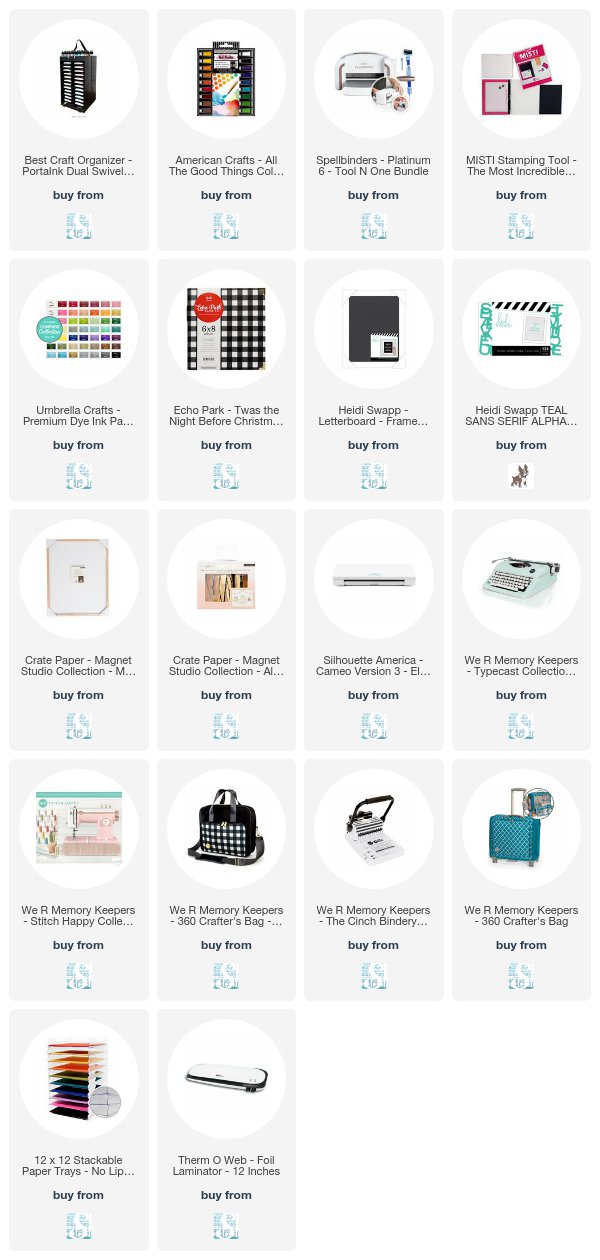 Holiday Craft and Scrapbooking Gift Guide:
*
Ink Caddy:
I have the one shown above. In fact, I have TWO of theme because I love how they spin and how they can hold both large and smaller ink pads. LOVE this storage solution.
*
Watercolor Set:
Wanting to dabble into this hot trend? Get yourself a starter kit. This one from Vicki Boutin is a gorgeous kit to get.
*
Manual Die Cut Machine
: This is a "MUST HAVE" tool for scrapbookers and crafters. The
Platinum 6 machine from Spellbinders
has a wide cutting platform allowing you to use both thin metal dies, as well as, very large steel rule dies. I have this machine and LOVE it!
*
Stamping Tool:
You just can't beat the
Misti Stamping Tool
. This was generously donated to me by the company. Game changer, people! You really do NEED this tool.
*
Stamping Ink:
I purchased several of these
Umbrella Craft Inks
. Wishing I'd got them all. Gorgeous, beautiful colors that stamp beautifully.
*
Mini Album:
This buffalo plaid album from
Echo Park
is gorgeous. Yes. I do work for them. And YES I already have used this album to make three different albums because I love it so much.
*
Letterboard:
Get one! You'll have so much leaving messages to your friends and family. Plus it will make your craft room even more creative. Don't forget to grab letters or phrases to go with your board!
*
Magnet Board:
Another awesome option for your craft space. I have the 16" x 20" from
Crate Paper
and LOVE the size. Look for the magnets, magnetic letters, calendar clings, and decorative clings you can get to go with this board. It comes in a smaller size as well.
*
Digital Die Cut Machine:
I have the
Cameo
. There isn't a tool that I use more (except my camera and computer). Santa really, really wants to bring you this awesome machine this year. Just give him (or her) the go ahead!
*
Typewriter:
Want to be able to type on your wide format pages? Go vintage with a gorgeous Typewriter. This typewriter from
We R' Memory Keeper
comes in several different colors. Get the shade that matches your craft space. And don't forget to grab extra typing tape in different colors!
*
Sewing Machine:
And in pink, or mint? Both from
We R' Memory Keepers
. Yes, please! I have a traditional sewing machine in plain white, but these colors have me all swoony. I sew on lots of my projects. This is another "MUST HAVE" tool in my craft room.
*
A Cute Bag
: Do you love going to crops or crafting with friends? Get yourself (or let your Christmas Elf) get you a NEW bag to hold all your craft projects. A shoulder bag is a great option for smaller craft nights, while a large bag is the "go-to" option for larger crops. Get one with wheels for ease in travel.
*
The Cinch:
If you love making your own mini albums, this machine will add rings to any album you create. It allows you to completely customize where the holes in your album are punched and where the rings will be placed. It comes in two different colors, so make sure to get the one that tickles your fancy!
*
Paper Storage:
Make 2018 your year for organizing your craft room. Start with these clear paper trays from
Umbrella Crafts
. You'll love the ability to see all of your paper in one place. Now you can spend all of your time crafting instead of cleaning!
*
Foil Laminator
: Loving the foiling trend? Then a foil laminator is the perfect thing to add some shine to your projects. This one from
Thermoweb
is perfectly priced and compact enough to go in any spot in your craft room.
Have your own suggestions? Did I leave something out? Tell me in the comments below, what Santa might be bringing you this holiday season.